Le dee-jay qui arrive, c'est dj JKriv !
Le prolifique producteur-dj-compositeur-multi-interprète-patron-de-label-organisateur-cascadeur-du-son de Brooklyn revient mettre un coup de razor musical sur le dance floorvirtuel de radio meuh.
Une tracklist bien à lui pour une balade electro-dancefloor aux rythmes afro-disco bien marqués dans laquelle il nous abandonne à sa délicieuse musique… Inédite et exclusive, c'est ta soirée avec JKriv !
Diffusions sur Radio Meuh : Samedi 28 octobre à 21h et mercredi 1er Novembre à 23h
Désormais disponible en replay sur notre Mixcloud et SoundCloud.
Tracklist "On Your Feat #1" with J-Kriv
Diogo Strausz - Dan=ça (JKriv Remix)
V.O. - Mashisa (Dub Mix)
Captain Planet - Agboju Logun (JKriv Extension)
MMT - Cilli Bom
Mateo & Matos - Zulu Funk 2 (Return 2 The Motherland)
Pascal Moscheni - 4th St
Erol Alkan - Out Of Your Mind
JKriv - Laser Love
Delfonic - Saturday Night Dance
Jo Bisso - I Wanna Love (JKriv Edit)
Flamingo Pier - The Remedy (JKriv Disco Dub)
Nadeem Khan - Tu Tak Tutiyan (Elado's 4 A.M. Mix)
Inédite et exclusive, dancefloor et soft-impulsive… c'est l'heure de son de dj JKriv !
On ne présente plus Jason, même si on le connaît surtout sous son nom de scène et de studio : DJ JKRIV. On comprend d'ailleurs la création de ce pseudo de platines en découvrant son nom : Jason Kriveloff, moins simple pour être à l'affiche d'une soirée dj ou d'une boiler room…
Acteur musical prolifique autant qu'atypique, il a le don et le talent d'apporter une touch unique et de plus en plus reconnaissable à l'ensemble des projets auxquels il participe. Né à New York et basé à Brooklyn, JKriv ne s'arrête jamais : dee-jay bien sûr, mais aussi multi instrumentaliste, parolier, producteur, co-fondateur du label Razor-N-Tape, organisateur de soirées et on vous en passe des vertes et des bien mûres. Il est aussi à l'aise sur scène qu'en studio… si bien qu'on le retrouve dans les productions de Glitterbox et Z-records comme aux enregistrements de Kathy Sledge ou encore Dimitri from Paris.
Production, studio, dj-sets ou live, Jason démontre sans cesse une richesse de son et de sens bien à lui, et Simon Dunmore dit même qu'il est « le pionnier de la scène » ! Depuis ses débuts avec Razor-N-Tape notamment, c'est une évidence pour Radio Meuh que le son de Jason est absolument aligné avec le style et l'ambiance de la programmation de Reblochonland. C'est ainsi que Dj JKriv se retrouve programmé au Radio Meuh Circus en 2018 avec Aaron Dae, son comparse de Razor-N-Tape. Dans cette tracklist éclectique et rythmée façon afro-disco, littéralement dance-floor-ready et let's go for the party, JKriv nous balade au gré d'une douzaine de titres aux couleurs nu disco et offbeat, aux rythmes de samedi soir aussi électrique qu'éclectique…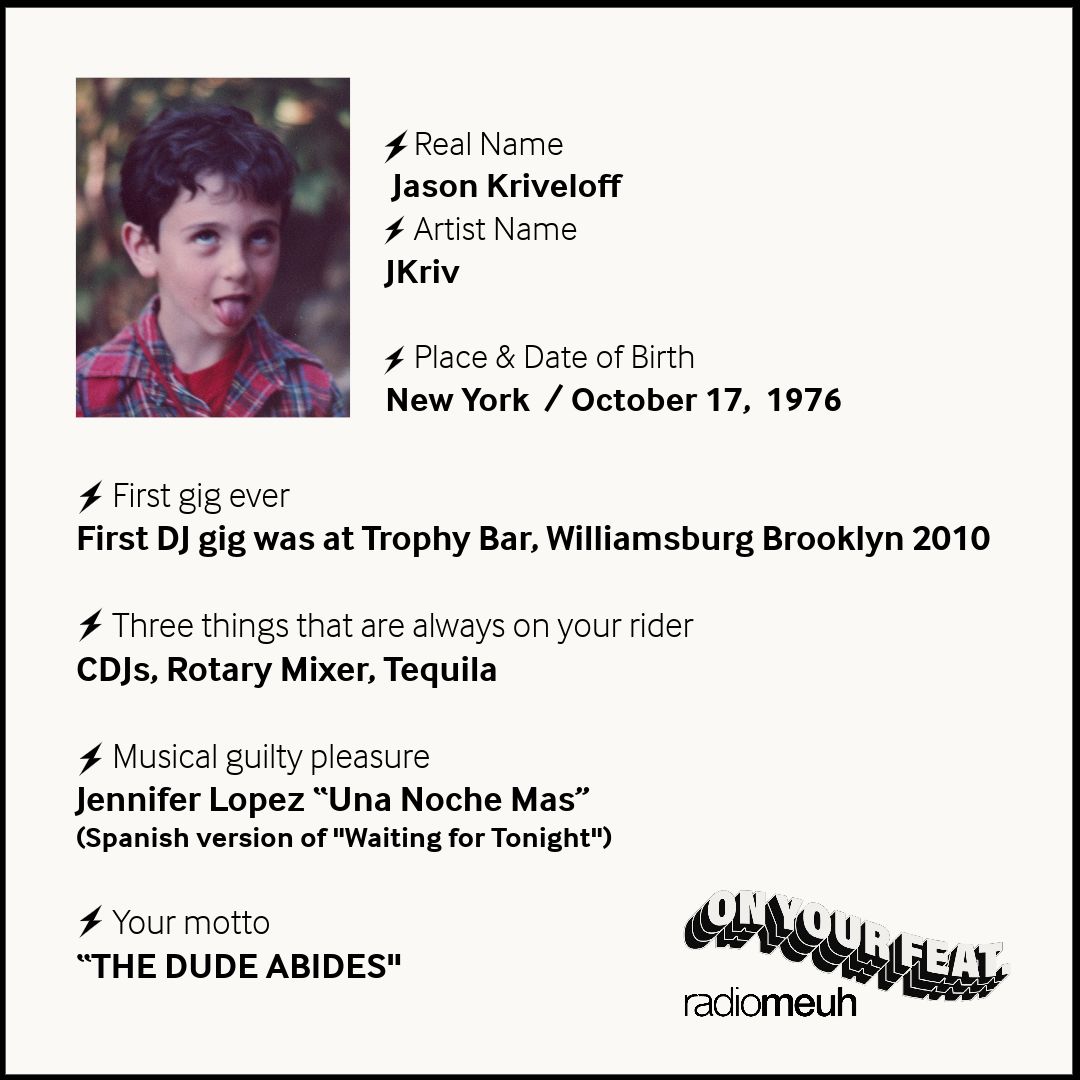 Unreleased and exclusive, dancefloor and soft-impulsive... it's time for dj JKriv ! Jason needs no introduction, even if he's best known by his stage and studio name: DJ JKRIV. It's easy to understand why he created this turntable pseudonym when you discover his name: Jason Kriveloff, which isn't so easy to get on the bill at a dj party or a boiler room...
Prolific and atypical musical player, he has the gift and talent to bring a unique and increasingly recognizable touch to all the projects he takes part in. Born in New York and based in Brooklyn, JKriv never stops: dee-jay of course, but also multi-instrumentalist, lyricist, producer, co-founder of the Razor-N-Tape label, party organizer and much more. He's as comfortable on stage as he is in the studio... so much so, in fact, that he's been involved in productions for Glitterbox and Z-records, as well as recordings for Kathy Sledge and Dimitri from Paris.
Production, studio, dj-set or live, Jason constantly demonstrates a richness of sound and meaning all his own, and Simon Dunmore even calls him "the pioneer of the scene"! Since his early days with Razor-N-Tape in particular, it's been obvious to Radio Meuh that Jason's sound is absolutely in line with the style and atmosphere of Reblochonland's programming. That's how Dj JKriv found himself programmed at Radio Meuh Circus in 2018 with Aaron Dae, his Razor-N-Tape buddy. In this eclectic, rhythmic Afro-disco tracklist, literally dance-floor-ready and let's go for the party, JKriv takes us through a dozen nu disco and offbeat tracks, with Saturday night rhythms as electric as they are eclectic...
Bonus: Les jeux de Meuh pourris
Jason se tâte à mettre du son ?
Et pourtant, il nous transporte !


Jason bourre notre onde avec du son,
et on a la musique dans la peau.

Merci Alexis Clément pour ses textes inspirés et ses jeux de mots finaux.