Dans l'oreille du cyclone avec le mix de Gones !
Il bouscule et (re)mixe les tendances, et ça sonne évidence. Ce qu'il y a à ouvrir et découvrir, à retenir et ressentir de ce mix justement coloré, c'est tout ce qui compose Gones et sa musique : générosité organique et ampleur mélodique, richesse des styles et justesse des sons, du rythme du rythme du rythme et de la passion ! Balade au look de tourbillo-mix caméléonique, dansant entre dub inattendue et funky samba pointue, dans des riffs rythmés de world music et d'ailleurs, c'est le coup d'soleil d'automne version dj GONES.
"On Your Feat. #3" Gones
🕐 Diffusions sur Radio Meuh :
Samedi 11 Novembre à 21h et Mercredi 15 Novembre à 23h

Désormais disponible en replay sur notre Mixcloud et SoundCloud

Tracklist On Your Feat. #3 Gones
1/ Here We Pie Again (El Barrio Recipe) - D'Ray
2/ I Believe In Miracles - The Jackson Sisters
3/ I Believe In Miracles - Sunlightsquare Latin Combo
4/ Brother's Gonna Work It Out - Willie Hutch
5/ Hot Music - SoHo
6/ Three Corners (Nicola Conte Sahib's Samba Version) - The Five Corners Quintet
7/ De La Soul - Gareth Donkin
8/ Letter To The Better - Masta Ace
9/ Keep It Slammin' - Square Circle
10/ Happening In The Streets (Domo Domo Rework) - The Voltage Brothers
11/ Let The Sunshine In - Jimetta Rose & Voices Of Creation
12/ Expansions feat Byron J. Moore (Ian Friday Libation Remake) - UnitedSoul
13/ Samba Para Norma (Tooli Edit) - Joel
14/ La Musica - Gabriele Poso
15/ Roforofo Fight - Havana Cultura Band
16/ Uno Nuovo - Claudio Coccoluto
17/ Chana - Carlos Garnett
18/ As - The Family Tree
Right in the ear of the cyclone, enjoy your time with Gones !
He shakes up and (re)mixes trends, and it sounds like an evidence. What's there to open and discover, to remember and feel from this precisely colored mix, is everything that makes up Gones and his music: organic generosity and melodic breadth, richness of style and accuracy of sound, rhythm rhythm, some more rhythm and some passion! A chameleonic tourbillo-mix look, dancing between unexpected dub and sharp funky samba, in rhythmic riffs of world music from here and there and everywhere… come to the table, it's your turn for Gones's special sunburn.
Let the sunshine ON en plein automne, Dans l'oreille du cyclone avec les sons de Gones !
1988 a été un tournant dans l'histoire de la musique française. Parce que les bacs ont accueilli cette année-là. Est-ce que tu viens pour les vacances de David et Jonathan, ou encore Mon mec à moi de Patricia Kaas ? Oui, si tu veux, mais pas que. C'est surtout cette année-là que commence le voyage musical d'Olivier Gonet, l'un des tontons du dee-jaying français, que l'on (re)connaîtra vite sous le nom de Gones.
Né en 1972 dans le sud de la France, il tend très vite l'oreille et se passionne pour la musique, ou plutôt pour toutes les musiques. Haut comme trois piles de vinyles à peine, son cerveau enregistre tous les styles et (re)compose une base musicale aux azimuts illimités : jazz et samba, house et hip hop, et toute la world music… au point qu'il montera derrière les platines pour la première fois en 1988, à l'âge de 16 ans.
Bien que son parcours de caméléon musical ait commencé il y a plus de 35 ans, le fondateur du collectif international de djs Melodious Mosaic, qui a partagé les potards avec Grand Master Flash et dj Knuckles, Nickodemus ou encore Gilles Peterson, vibre toujours d'une folle originalité et d'une fraîcheur sans frontière. Artiste aussi surprenant qu'évident, Gones nous offre ici une balade enveloppante et rythmée, où sa grande connaissance des disques nous emporte et nous offre des pépites expertes et des redécouvertes.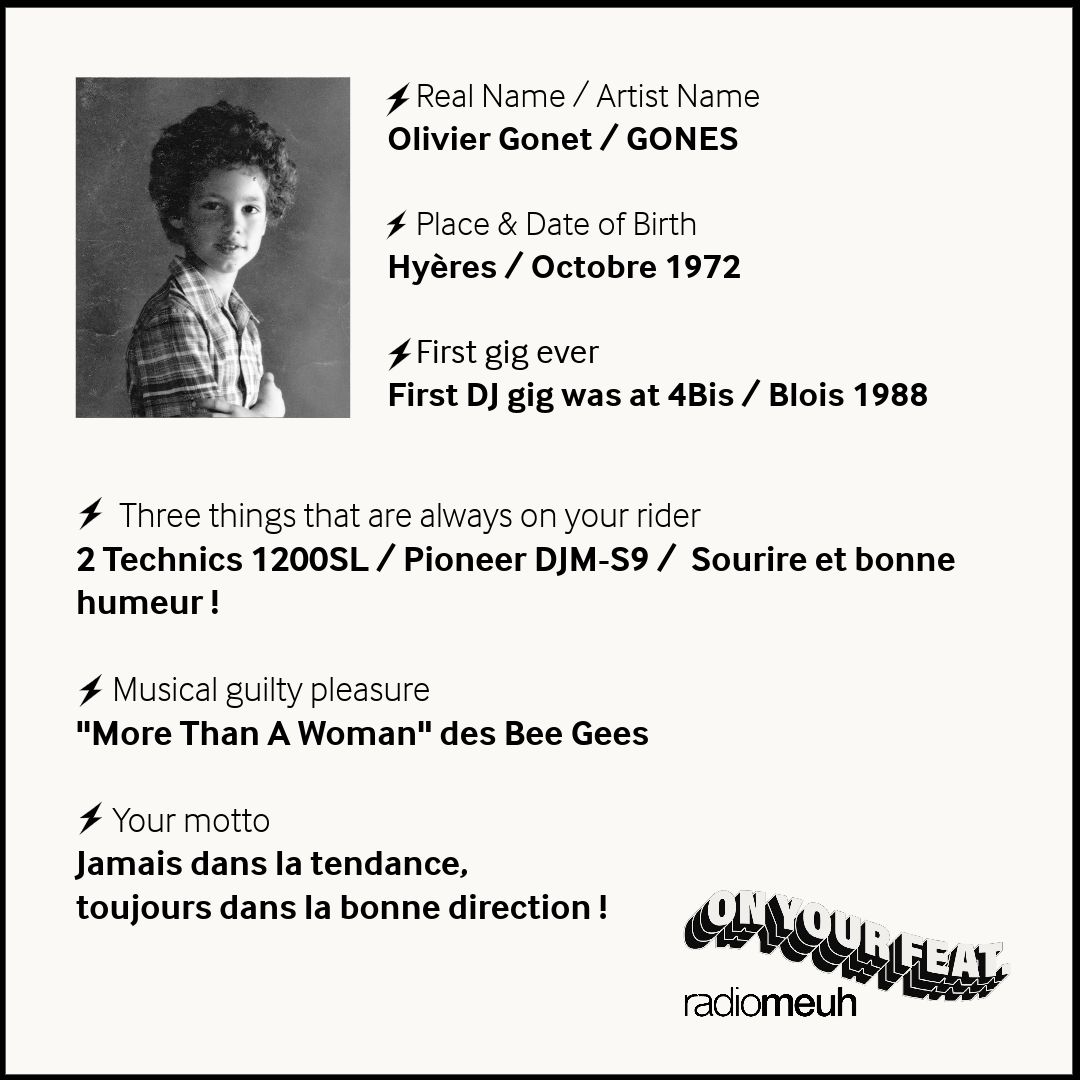 Right in the ear of the cyclone, enjoy your time with Gones !
1988 was a turning point in French music history. Because that was the year that Billy Ocean's Tear down these walls and Leonard Cohen's I am your man hit the stores? Yes, if you like, but that's not all at all. It was that year that Olivier Gonet, one of France's dee-jaying big brothers, began his musical journey, soon to be (re)known as Gones.
Born in 1972 in the south of France, he quickly developed a passion for music, or rather for all kinds of music. As tall as three stacks of vinyl records, his brain registers all styles and (re)composes a musical base of unlimited azimuths: jazz and samba, house and hip hop, and all the world's music... to the point where he steps behind the turntables for the first time in1988, at the age of 16.
Although his course as a musical chameleon began over 35 years ago, the founder of the international dj collective Melodious Mosaic, who has shared turntable knobs with Grand Master Flash and dj Knuckles, Nickodemus and Gilles Peterson, still vibrates with wild originality and boundless freshness. An artist as unusual as incontestable, Gones offers us here an overwhelming, rhythmic stroll, where his vast knowledge of records carries us away and offers us treasures of selecta and rediscoveries.
Les jeux de Meuh pourris :
À moins que tu aies un complexe de deep,
Tu ne seras pas anti Gones !
Ne cherche pas à être stone,
Mets-toi un bon gros Gones !
Unless you're having a deep-us complex,
You won't be an anti-Gones.
No, don't try to be stone,