House et disco au paradis, les disques chauds d'Shady Lady !
Peut-être l'as-tu rencontrée en mars dernier sur la scène la plus gym-tonic de tout le Radio Meuh Circus Festival, lors de son set aérobico-disco… peut-être as-tu déjà groové du popotin sur l'un de ses sets, vibrant de dance et protohouse à en perdre ton latin… et si ce n'est pas (encore) le cas, voilà une excellente occasion de faire la connaissance de l'inépuisable Shady Lady.
Presque là à danser avec toi, comme elle le fait sur tous ses lives, laisse-toi faire par le phénomène, entre house trippée et disco en latex… voilà l'heure la plus rythmée et la plus colorée de ta semaine !
"On Your Feat. #4" Shady Lady
Diffusions sur Radio Meuh :
Samedi 18 Novembre à 21h et Mercredi 22 Novembre à 23h


Désormais disponible en replay la semaine prochaine sur notre Mixcloud et SoundCloud
Tracklist On Your Feat. #4 Shady Lady
Blaq Numbers - I'll Be Gone
Client Liaison - Do It My Way
Luke Million - Sun Splash (Jacques Renault Dub Remix)
Moana Pozzi - Bonita
Exchpoptrue - Discoteca
Seven Davis Jr. - Figure It Out ft Juliet Mendoza
Sounds Of Blackness - Joy (Momo Def Version)
CeCe Peniston - I'm Not Over You (Junior's Factory Mix)
Wallace - Breaking Up
Seph Martin - Drop It (All Nite)
ONIPA - Yenimno (Village Cuts Remix)
Close Counters - FLASHBACK
DiscoGram - Faces
Underdog - In Need Of That Phone
Joe Cleen - Seoul Searchin
A trip into house and disco, come on Shady Lady let's go !
Maybe have you met her in march on the most gym-tonic stage of the Radio Meuh Circus Festival, during her aerobic-disco set... maybe yet have you grooved your booty off to one of her sets, vibrating with dance and protohouse to your heart's content... and if you haven't (yet), now is the time to get to know the inexhaustible Shady Lady.
Almost as if she was dancing with you, as she does on all her live shows, let yourself be taken in by the phenomenon. Between trippy house and latex disco, this will be for sure the most rhythmic and colorful hour of your week!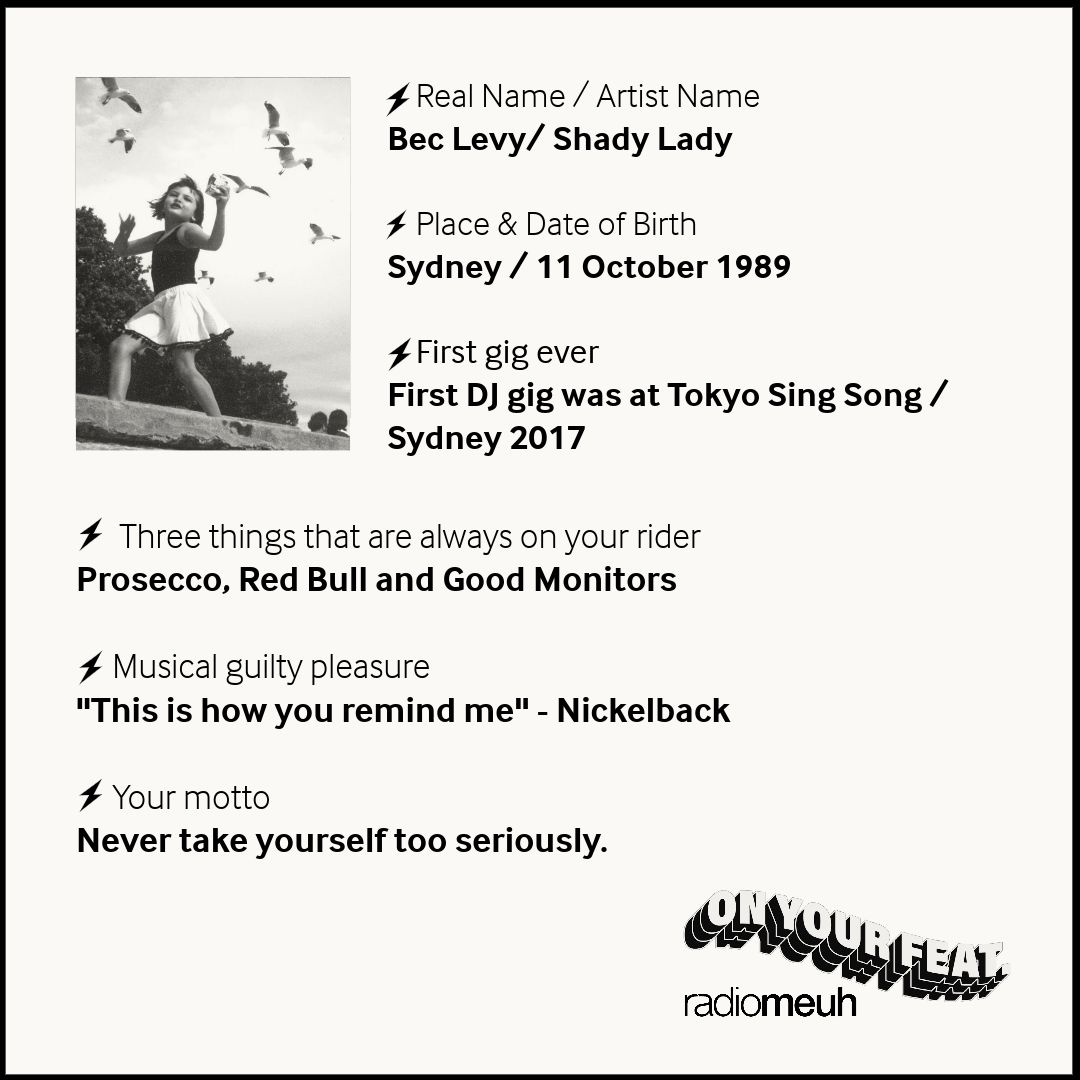 Follow Shady Lady sur les réseaux :